To teach newcomers how to best enjoy the game, this page will describe basic gameplay functions. Read these easy-to-learn mechanics and immerse yourself in the world of Twisted-Wonderland.
*Images and video here are taken from the game still in development.
Home Screen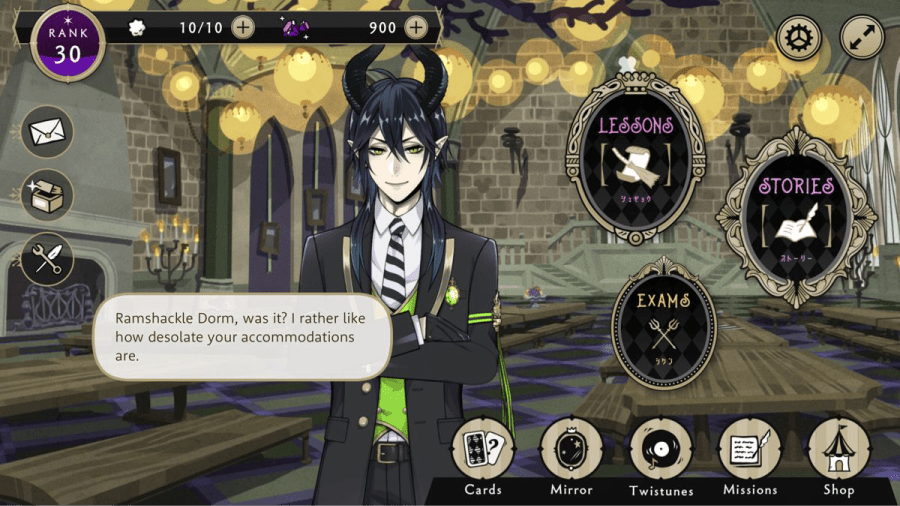 Display your favorite character on the main screen and enjoy their personality shining through with a variety of expressions animated using Live2D models. Tap the characters on the main screen to hear different dialogue from each of them. You can also unlock different background displays throughout the game and use them to customize your main screen.
LESSON
As a student of Night Raven College, spend your school life with your favorite character and take on a variety of lessons to help them grow to become great mages. Characters may take three different kinds of lessons, each offering an opportunity to improve different stats.
History of Magic
Dive into the history of magic and the world of Twisted Wonderland!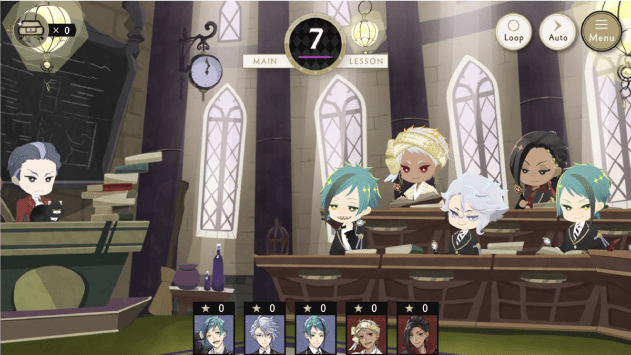 Alchemy
Learn the creation of various compounds by employing myriad ingredients!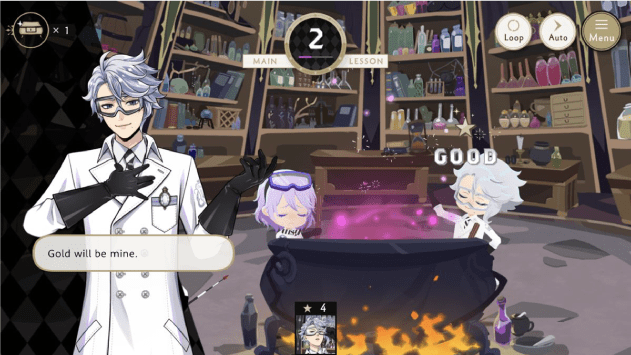 Flight
Train with magical brooms to improve your mastery of flight!
STORY
Interact with story icons on the map to progress through the story and enjoy the tales of Twisted-Wonderland.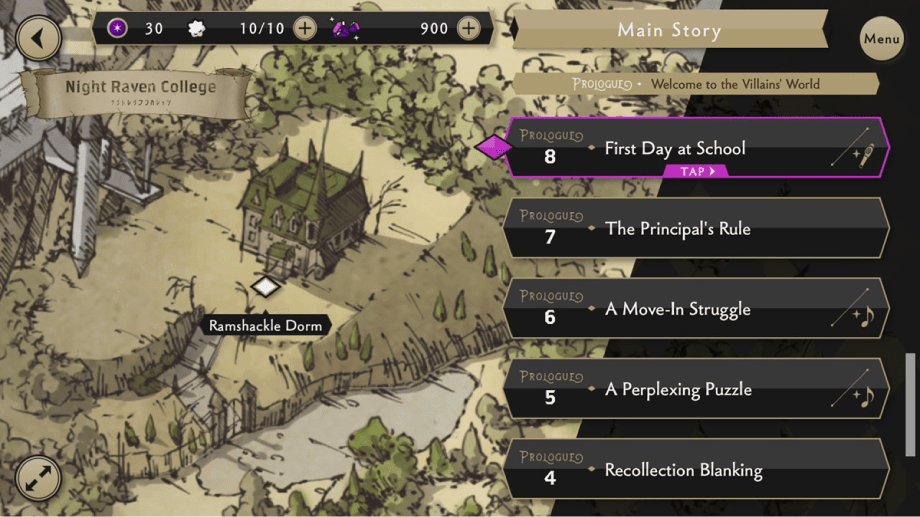 Story progression consists of three different parts.
Original Disney-inspired Adventures
Enjoy the tales of Twisted Wonderland through original adventures inspired by Disney villains. All character models are animated using Live2D and all the main story scenarios are fully voiced, adding immersive depth and compelling energy to the story!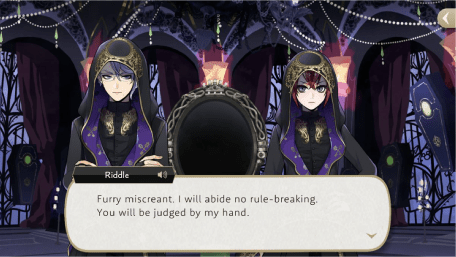 Twistunes Rhythmic Challenges
In Twistunes, your objective is to score as high as possible by matching the notes on the screen in time to the music. You can enjoy dialogue between different characters in their adorable miniature models. The music featured in Twistunes changes depending on the story and characters selected, so you'll always have something new to enjoy!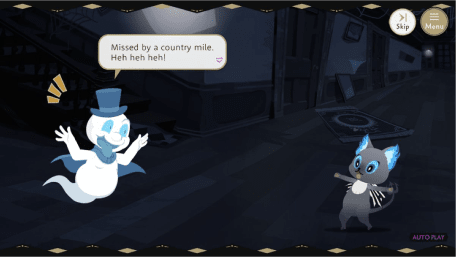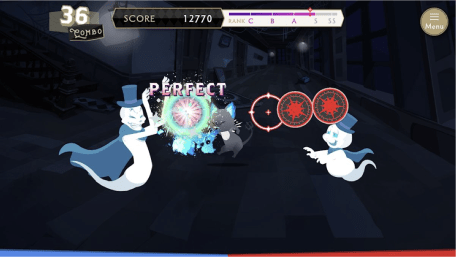 Turn-Based Battles
Wield your character's magic and battle your enemies. Carefully observe each enemy's weakness and choose the best magic to attack. Deal more damage than your enemy to win the battle.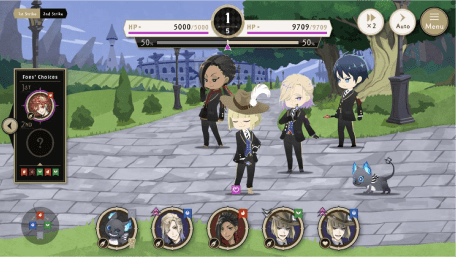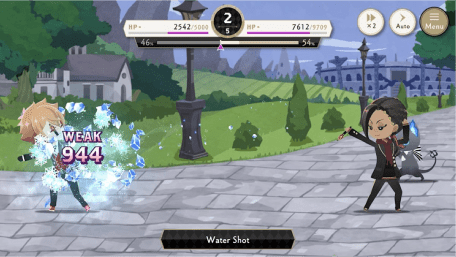 EXAM
The combat exam held at Night Raven College assesses each student's aptitude as mages. Choose an available exam to undertake and attempt to score as many points as possible Your score determines the rank you are assigned, with rewards for the exam improving as you increase your rank.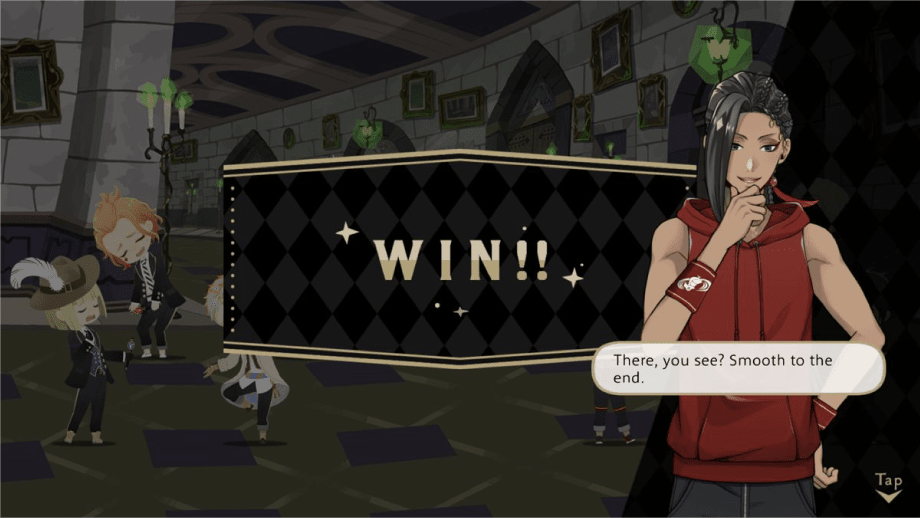 *Game system and gameplay screenshots are subject to change.